Micronora 2018 – key figures
The Micronora trade fair ended on 28 September 2018 after an extremely successful few days, once again confirming that it is an international leader in the microtechnology and high precision sector.
629 direct exhibitors (35% foreign, 35% national, 30% regional)

291 firms or brands represented (74% foreign)

Over 25,000 sq. m of exhibition space

15,220 professional visitors, of which 14.5% from abroad.
Visitor profile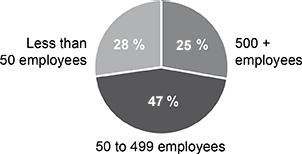 Contest – Microns & Nano d'Or 2018
1 Nano d'Or: Protavic International

5 Microns d'Or: VP Plast, Percipio Robotics, Vuichard Michel, Lasea, Femto-st/robotics

1 Jury's prize of honour: Stäubli Robotics

2 Special jury prizes: Expertise Vision, Aurea Technology
B2B meetings in 2018 – 11th Micro Nano Event
Nationalities represented
Smart Plastics Congress
For the second time, the international smart plastics congress was held on 27 and 28 September 2018 at the Micronora trade fair,
bringing together 70 participants from France, Germany, Spain, Finland and Switzerland.